Chicago is known for many things like world-famous architecture, cultural offerings, deep-dish pizza, and parks.. lots, and lots of parks! No matter the season, you will be able to find a park to fit the weather. If you plan on going for a run, walking your dog, or site seeing, you will be set for the day! Here are some of the most popular parks located all throughout the city of Chicago.
1. Millennium Park
Located at 201 E. Randolph St Chicago, IL 60602
This 24.5-acre park, created in 2004, is located in the heart of Chicago and is one of the city's largest free attractions. No matter the season, Millennium Park has something for people of all ages. From ice skating to free concerts, Millennium Park never fails to entertain. Make sure you get your picture taken in front of the 3 story steel-structure also known as the Cloud Gate or 'The Bean. Millennium Park embodies all that Chicago has to offer!
2. Grant Park
Located at 337 E. Randolph St Chicago, IL 60601
Stretching 319-acres, Grant Park is apart of the Loop Community in Chicago. Home to The Taste of Chicago and Lollapalozza, Grant Park does it all! Included within Grant Park are major parks like Millennium Park and Maggie Daley Park. Take a walk down Lakefront Trail with Lake Michigan on one side and the Chicago city skyline on the other, sounds amazing right? The Great Lawn offers a multitude of outdoor activities like yoga, Zumba, pilates, rock climbing, tennis, and rollerblading.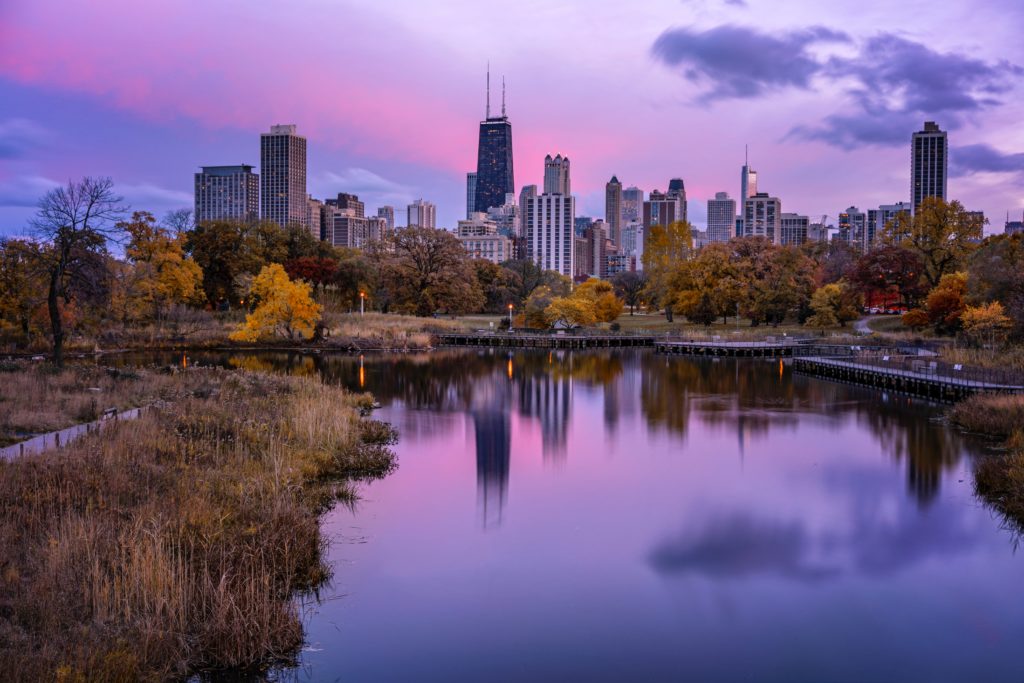 3. Lincoln Park
Located at 2001 N. Clark St Chicago, IL 60614
Chicago's largest and most visited park is named for the 16th president of the United States. Lincoln Park encompasses the lakeshore and is home to a variety of animals in Lincoln Park Zoo. If you're up for some activity, the park offers golf courses, baseball fields, a skate park, and a walking path.
4. Garfield Park
Located at 100 N. Central Park Ave Chicago, IL 60624
Garfield Park is one of Chicago's most prominent and oldest public parks located on the westside. Spanning 184 acres, Garfield Park is home to the largest and best conservatory in the US that showcases thousands of plant species within six greenhouses and two exhibition halls. The park offers swimming pools, baseball, football and soccer fields, playgrounds, tennis courts, and fishing areas. As well as, movies in the park, festivals, and concerts!
5. Maggie Daley Park
Located at 337 E. Randolph St Chicago, IL 60601
This park is an urban oasis for kids of all ages! With activities like a rock-climbing wall, mini-golf, and playgrounds filled with huge slides and swings. And let's not forget about the amazing quarter-mile outdoor skating ribbon in the winter. Spend the afternoon having a picnic, walking, jogging, or rollerblading with a beautiful view of Lake Michigan.
6. Humboldt Park
Located at 1400 N. Humboldt Blvd Chicago, IL 60622
Designed by William Le Baron Jenney, Humboldt Park is one of Chicago's oldest and most vibrant parks. Located on the West side of the city, Humboldt Park offers many walking trails, areas to fish, and great sites. Filled with green spaces, lagoons, tennis courts, a beach, a fieldhouse, baseball fields, and bike paths. Stop by Humboldt Park to relax after a hectic day with amazing wildlife.
7. Jackson Park
Located at 6401 S. Stony Island Ave Chicago, IL 60637
Located on the Southside of Chicago on 500 acres, Jackson Park is filled with an extensive amount of history, make sure you visit the Republic Statue! The park is home to many areas to play outdoor sports like golf, basketball, baseball, and tennis. Also, the perfect sport to run, bike, or walk and admire nature!
8. Winnemac Park
Located at 5100 N. Leavitt St Chicago, IL 60625
One of Chicago's best-kept secrets! Beautiful and spacious, Winnemac Park is located north of the city and is home to a variety of events in the summer from movies in the park to Shakespeare plays. The perfect spot for a morning run, to watch a sunset, walk the dog or play catch. Winnemac Park is always safe, clean, and well kept. Don't miss the fireworks here on the Fourth of July!
9. Indian Boundary Park
Located at 2500 W. Lunt Ave Chicago IL 60645
Truly one of Chicago's hidden gems! Indian Boundary Park is a great neighborhood park and very unique. The perfect play area for children of all ages with a spray park, playground with swings, tunnels, bridges, and slides, tennis courts, and a small public zoo area. Great area to run around and get your exercise in!
10. Burnham Park
Located at 5491 S. Shore Dr Chicago, IL 60615
Burnham Park sits on the shores of Lake Michigan and stretches over 650 acres, giving you miles to walk, run, or bike. This is the best place to view Chicago's skyline, both north, and south.
Each Chicago Park features something different and exciting to do.  Take time out of your busy schedule to visit each one of these amazing parks!